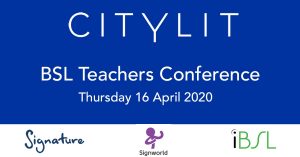 The City Lit BSL Teachers Conference 2020 will welcome BSL teachers from all over the UK to discuss how to promote excellence in BSL teaching, to share best practice and to network with other BSL teachers.
This conference is proudly supported by Signature and Signworld and iBSL.
Topics include: ·         
Continuing Professional Development for BSL teachers
Developing excellent BSL resources
The future of BSL
Best use of online resources
Deaf Cultural Narrative
Differentiating BSL History for BSL Levels 1-6
If you are interested to attend here is the Eventbrite link:
https://www.eventbrite.co.uk/e/bsl-teachers-conference-programme-2020-tickets-93049352117
Hope you are able to join us.
Many thanks.
Warm wishes
From Emma Iliffe
City Lit BSL Teachers Coordinator