Collection: Looking for Light – The Heroine's Journey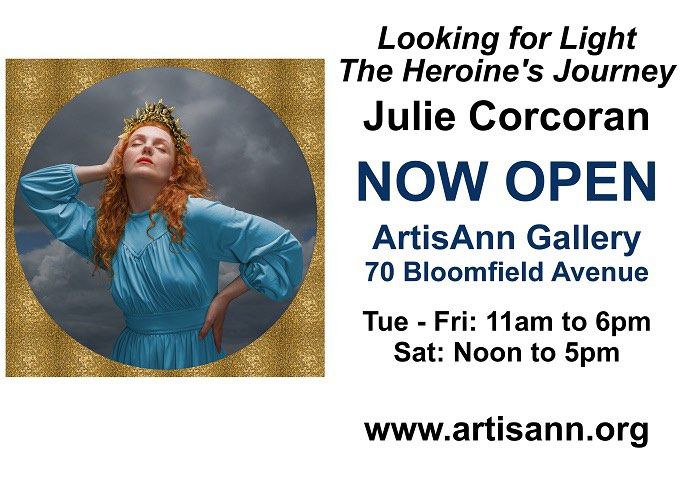 An Exhibition by Julie Corcoran, runs until 22nd December 2022.
ArtisAnn Gallery, 70 Bloomfield Avenue, Belfast, BT5 5AE
https://artisann.org/collections/looking-for-light-the-heroines-journey
Tue – Fri: 11am to 6pm ; Saturday: Noon to 5pm
Julie Corcoran takes us through an epic journey in her new show "Looking for Light – The Heroine's Journey". The protagonist, in a beautiful dress, journeys deep within and is resurrected achieving divine unity of the feminine and masculine.
As the artists says "This is the exhibition your soul wants you to see"
Each of Julie's images are born out of an emotion or concept. Julie combines the digital photographs in layers to produce pieces that look they were painted rather than manipulated on screen.
Julie gained an Associateship Distinction from the Irish Photographic Federation (IPF) in 2017. She was awarded the Artiste FIAP Award in 2019 from the Federation Internationale De L'Art Photographique (FIAP). She has also won individual prizes for her work, including a silver medal at the 5th Swedish Small Print Exhibition.
ArtisAnn Gallery is a gallery based on Bloomfield Avenue in East Belfast selling high quality art. This friendly gallery in East Belfast, features emerging and established artists working in a range of styles and mediums.
Occupying two floors, a monthly themed exhibition programme is on the first floor, while the ground floor is arranged Salon Style, with the intent of displaying as many amazing art works as possible. It is owned by Ann and Ken Bartley, who have twenty years experience in the art world as artists, collectors and curators.
The gallery has a friendly and fuss-free atmosphere, and offers a friendly, knowledgeable service to suit every art lover, whether it is for home, business or for a special occasion.
See website, www.artisann.org , for list of artists and artworks.
We hope you will find an artwork that you can take home and love.
ArtisAnn Gallery
70 Bloomfield Avenue,
Belfast,
BT5 5AE
Opening Times
Wed – Fri: 11am to 6pm
Sat: Midday to 5pm
Private Viewings by Appointment
Web: www.artisann.org
Email: [email protected]
Phone: 077 263 263 90 (Ann) 079 053 395 69 (Ken)