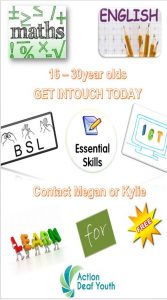 Action Deaf Youth: Why not join our FREE Essential Skills Classes at Action Deaf Youth? We offer one to one mentoring support, Communication support, free lunches and travel too!
Contact Kylie Actiondeafyouth or Megan Actiondeafyouth today or email [email protected]
ISSUED ON BEHALF OF THE COMMISSIONER FOR PUBLIC APPOINTMENTS, NORTHERN IRELAND (CPANI)
CPANI is seeking applications from people interested in becoming Independent Assessors. These are individuals who sit on the departmental selection panels convened to appoint the Chairs and members of our public bodies.
Please see attached for details of this opportunity: